If it hadn't been for Sandy Koufax, the Dodgers almost certainly wouldn't have won three pennants and two World Series titles in the 1960s. The left-handed pitcher used his blazing fastball and knee-buckling curveball to manhandle opposing batters on his way to a Hall of Fame career.
But before he was a superstar pitcher for the Los Angeles Dodgers, Koufax was a teenage "bonus baby" for the Brooklyn Dodgers.
The photo below shows Koufax, just days before his 19th birthday and also close to Christmas, in the offices of the Brooklyn Baseball Club. He's just signed a professional contract and is wearing a Dodgers cap and jersey for the first time as a member of the organization that he would help transform.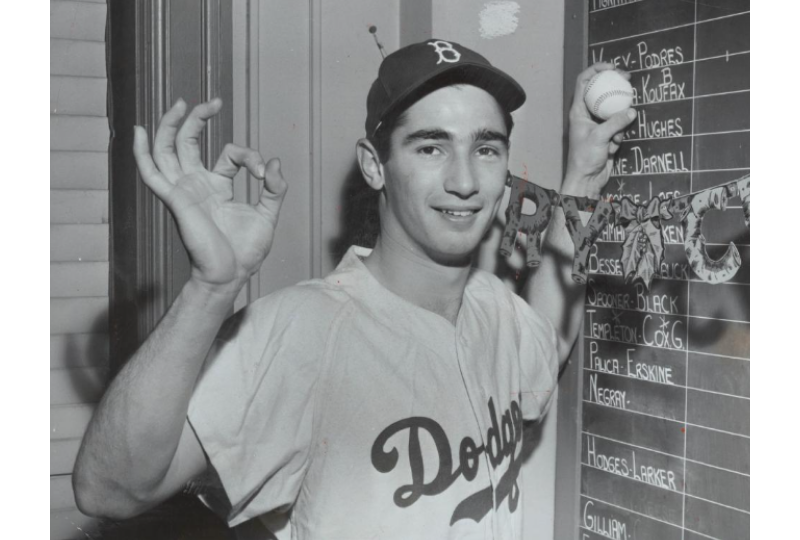 What was a Bonus Baby?
Prior to the 1947, Major League Baseball did not have an amateur draft. Teams could sign young players essentially at will. But, that policy favored the clubs with deep pockets, so MLB instituted the "bonus rule" in 1947 that was intended to curb the number of high-paid prospects one team could shelter in their system.
Under the bonus rule, any player signed for more than $4,000 (about $50,000 in today's dollars) was required to be kept on the active MLB roster for two full seasons. If a team failed to keep that "bonus baby" on their MLB roster for the entirety of two seasons, that player was eligible to be drafted by another team via the waiver wire.
Though the rule was challenged by some of the richer MLB teams, it stayed in effect for much of the time between 1947 and 1965, when MLB debuted an amateur draft.
Dodgers Sign Bonus Kid: The Sporting News clipping, 1954
The clipping above from The Sporting News details the Dodgers signing of Brooklyn native Koufax, who had most recently spent part of a season pitching for the University of Cincinnati.
Koufax was required to stay on the Dodgers for the 1955-56 seasons, and he pitched in 28 games. Both years the team won the National League pennant, but young Koufax did not pitch in the World Series. He was still learning how to pitch at the top level.
SEE ALSO: Dodgers All-Time Team
It wasn't until 1961 when he was 25 years old, that Koufax tamed his fastball and became a pitcher rather than a thrower. That season he won 18 games and reduced his walk rate from 5.1 per nine to 3.4, finally figuring out how to hit the strike zone with his rising fastball and devastating breaking ball, which broke from "12 O'Clock to 6 O'Clock." After that, Sandy was off to the races: he went 111-34 with a 1.95 ERA and 275 strikeouts per over his next five seasons (1962 through the sudden end of his career in 1966).
OF NOTE: The 20 Greatest Dodgers of All-Time
How did the Bonus Baby rule work out? Five players who were bonus babies ended up making the Baseball Hall of Fame: Koufax, Al Kaline, Harmon Killebrew, Roberto Clemente, and Catfish Hunter.
Al Campanis, the Dodgers scout who found Koufax, also scouted Clemente, whom the Dodgers signed in February of 1954. The Dodgers assigned Clemente to a minor league team to hide him from prying eyes, despite having signed him for more than $4,000. They were trying to be cheat the Bonus Rule. But that summer a Pittsburgh scout (Clyde Sukeforth, who ironically had once been a Dodgers coach) noticed Clemente's amazing throwing arm and made a note of him. He realized that the outfielder was supposed to be on the big league roster and would be available via a draft that winter to the team with baseball's worst record. The Pirates drafted Clemente from the Dodgers in November and he went on to a great career in a Pirates uniform.
Koufax retired six weeks after the 1966 World Series and in the wake of having earned his third Cy Young Award in four seasons. An arthritic elbow was the reason for his sudden and stunning retirement. He was elected to the Baseball Hall of Fame in his first year of eligibility in 1972.
RELATED: The 100 Greatest Pitchers of All-Time
ALSO: When Sandy Koufax's Dominated the Mets for his First No-Hitter