The 1930s were a time of great turmoil in America. The stock market collapse at the end of the previous decade sent the country into economic peril. The Midwest was ravaged by storms that created a dangerous Dust Bowl. Many people saw their life savings devastated, as men were forced to beg for food or sell their possessions to survive.
In baseball, the 1930s were an era of transition. The game started to fully embrace the emerging offensive weapon: the home run. Babe Ruth, who ushered in a slugging era, was winding down his career, to be replaced by a generation of hitters who could hit for power and average. The Yankees went from Ruth's team to an era led by Joe DiMaggio.
The New York Yankees won five pennants and world championships in the decade. It was a time when the American League was clearly dominant over the National League. The latter won only three World Series between 1930 and 1939.
The annual MLB All-Star Game began in 1933, marking the beginning of a new period in the game, breaking from the Deadball era past when pitching was dominant. In 1939, the National Baseball Hall of Fame opened its doors.
Our list of The 10 Players With the Most Hits in MLB in the 1930s includes nine Hall of Famers.
Paul Waner is probably the most famous drunk in the history of baseball. He drank every day, and he drank a lot. But, it rarely impacted his performance.
Once, teammate and manager Pie Traynor ordered Waner to stop drinking hard liquor. When Paul's average was languishing around .250, Traynor rescinded his mandate, and Waner returned to his elite hitting ways.
Waner won batting titles in 1927, 1934, and 1936. He reached 200 hits eight times. His lifetime .340 average with the Pirates is a franchise record.
Charlie Gehringer: 1,865 Hits
They called him "The Mechanical Man," because Gehringer was so consistently great. From 1933 to 1937, the Detroit second baseman had between 201 and 227 hits every season. His magnus opus was in 1937, when Gehringer hit .371 with 40 doubles and was named American League Most Valuable Player.
ALSO: 100 Greatest Second Basemen in Baseball History
When the Philadelphia A's traded Foxx to the Red Sox before the 1936 season, the big slugger had led the league in home runs in three of the previous four seasons. He had more oomph in his bat after going to Boston. From 1936 to 1941, "The Beast" batted .321 and averaged 36 homers, eight triples, 129 RBI, and a .609 SLG in a Red Sox uniform.
Lou Gehrig: 1,802 Hits
Elsewhere on Baseball Egg, you can read about the end of Gehrig's record consecutive games streak, and how he had to dodge criticism.
Where does Gehrig rank among the 100 Greatest First Baseman of All-Time?
Earl Averill: 1,786 Hits
This beautiful card from Helmar featured Earl Averill during his prime with the Cleveland Indians.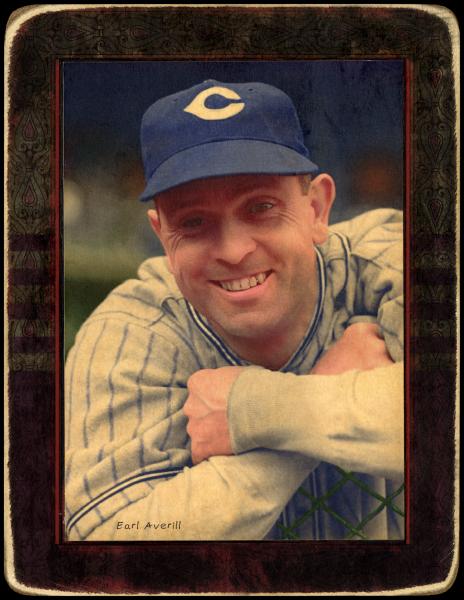 Simmons had dark, thick, wavy brown hair, and bushy eyebrows that hovered closely above his light-brown eyes. He was a substantial man with thick, muscular legs that were still wide at his ankles. He played football at Stevens Point Teachers College in Wisconsin, but he hit the baseball so hard that he was signed by his hometown Milwaukee Brewers, a minor league club at the time, who shipped him out for seasoning. He didn't need it. Simmons ended up in South Dakota and later Texas, where scouts started buzzing around his games. His given surname was Syzmanski, but no one could pronounce it correctly, so Al chose "Simmons" after seeing an advertisement for Simmons Hardware. The Giants had the first look at him, but Connie Mack scooped them, getting Al's new name on a contract.
Ben Chapman: 1,697 Hits
An entire book could be written about the controversies surrounding Chapman, but the highlights (or lowlights as they were) are these:
During a series in 1933 against the Senators in Washington, Chapman was in full bench-jockey mode, his target was second baseman Buddy Myer, who was (falsely) thought to be Jewish. Chapman twice spiked Myer during the series, the last time going out of his way to spike him on the leg not even near second base. Myer tumbled to the ground, popped up, and punched Chapman. A melee ensued that rivals the infamous "Malice in The Palace" as one of the worst fan/athlete fights in professional sports history. Reportedly, as many as 300 fans spilled onto the field and it took 20 minutes to restore order in Griffith Stadium.
In 1934 more than 12,000 fans submitted a petition demanding the Yankees trade Chapman after he got into an argument with Jewish fans at Yankee Stadium and made anti-semitic remarks. Chapman used the Nazi salute during the confrontation.
In 1935 during a game at Yankee Stadium, Chapman made an error and was hearing it from a few fans near the home dugout. Throughout the game he exchanged words with a particular fan who was razzing him, promising to "get him" when he had the chance. After the last out of the game, Chapman climbed into the stands and chased the startled fan out of the park all the way to a nearby tavern in full uniform. A police officer stopped Chapman from inflicting any physical harm on the fan.
On July 11, 1937, Chapman was ejected from the first game of a doubleheader in Philadelphia for inciting a fight due to his bench jockeying. In the second game, after he was picked off first base, Chapman jawed at umpire John Quinn, poking his finger in Quinn's face. When Quinn tossed him out of the game, Chapman punched him. Amazingly, the American League suspended Chapman for only three games.
In 1938, in a game against the Tigers, Chapman punched Detroit catcher Birdie Tebbetts when Birdie teased him. He was fined but not suspended.
That same season, when his Red Sox faced the Tigers late in the season, Chapman tried to spike Detroit first baseman Hank Greenberg twice. Greenberg, a Jew, was closing in on Babe Ruth's single-season home run record, and had become a target because of it.
And the list could go on and on. I haven't even touched on his most infamous incidents of bench jockeying as manager of the Phillies in 1947 when Jackie Robinson became the first black man to play in the major leagues. During that historic season, Chapman was at his redneck best. Here are a few of the things Chapman yelled at Robinson from the top step of the dugout:
"Hey, niggar, why don't you go back to the cotton field where you belong?"
"They're waiting for you in the jungles, black boy!"
"Hey, snowflake, which one of those white boys' wives are you dating tonight?"
"We don't want you here, niggar."
"Go back to the bushes!"
Chapman was the manager of the team when he unleashed this verbal attack.
Chuck Klein: 1,676 Hits
In 1930, Chuck Klein had one of the most incredible seasons a baseball player ever had.
Mel Ott: 1,673 Hits
Ott hit 63 percent of his home runs at the Polo Grounds. The right field foul pole was 257 feet from home plate, which was very convenient for a pull-hitter. His odd batting stance was designed to allow him to pull inside pitches. He stood with his lead (right) leg pointing to first base so his stance was open. When a pitch was delivered Ott lifted the lead leg as a weight shift device, like Darryl Strawberry did, or more aptly, like Sadaharu Oh, who was built a lot like Master Melvin. Many of the Japanese hitters use the leg kick timing mechanism, you saw it with Oh and other great Japanese sluggers. The reason for it traces back to the history of baseball in Japan. The man who introduced organized baseball to Japan, the man who taught them the American Pastime, was "The Man in the Green Suit," Lefty O'Doul, who also happened to be one of the best batting coaches in history. O'Doul was on the Giants when 19-year old Ott won the right field job. O'Doul tutored Ott, he tutored an entire nation, and that's partly why, decades later, Ichiro hit the way he did.
Joe Cronin: 1,650 Hits
You could make the argument that Cronin is the greatest shortstop in the history of two original American League franchises: the Washington Senators, and the Boston Red Sox.
Cronin was similar to Alan Trammell: a superb defensive shortstop, but also a dangerous threat with the bat in his hands.