Of the first sex players elected to the Baseball Hall of Fame, only two were pitchers. One was New York Giants legend Christy Mathewson. The other was Walter Johnson, considered at the time to be the greatest pitcher in the history of the game.
More than 80 years after he was elected to the Hall of Fame, Johnson is still considered by many to be the best pitcher to ever toe the rubber. We think so, in our list of the Top 100 Pitchers of All-Time.
When Johnson, Mathewson, and four others were elected to the Hall of Fame in 1936, they didn't quite know what to make of the new institution. No one had seen the Hall of Fame, because it wouldn't open until 1939. But baseball observers agreed that it was an important development to record the history of the game.
Johnson, like the others who were elected, was asked to consider donating items from his legendary career to the Museum. Just like he had on the mound to win more than 400 games (110 by shutout), Johnson came through: his donation was a collection of autographed baseballs.
The baseball's weren't signed by ballplayers. They had the signatures of six presidents dating back to the early years of the 20th century.
Johnson spent his career with the Washington Senators, pitching in D.C., only a few short strides from Pennsylvania Avenue and the famous White House. As a result, he had an opportunity to meet many of the presidents, often on Opening Day at Griffith Stadium. Four of the baseballs were given to Johnson by the presidents at the ballpark. Two of them (signed by Theodore Roosevelt and Herbert Hoover) were given to him personally.
The photo below shows Johnson examining the special baseball collection prior to sending it to Cooperstown for the Hall of Fame collection.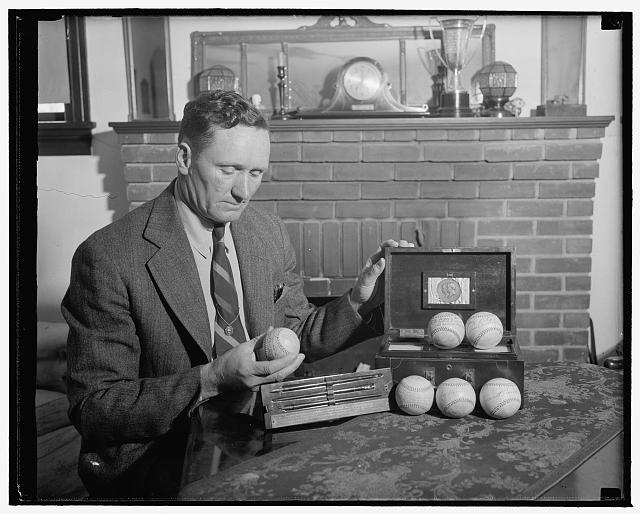 The tag on the photo in the Library of Congress reads:
Walter Johnson's contribution to the National Baseball Museum at Cooperstown, New York, will be these six baseballs autographed by six presidents: Theodore Roosevelt, William H. Taft, Woodrow Wilson, Warren G. Harding, Calvin Coolidge, and Herbert Hoover. With the exception of the ones autographed by Presidents Theodore Roosevelt and Herbert Hoover, the balls are those which were thrown out at opening games pitched by Johnson during his regime as star pitcher for the Washington Senators. The ball autographed by President Hoover was presented to Johnson while he was manager of the Washington team while the one with the signature of Theodore Roosevelt was a special gift to the Big Train

Library of Congress Prints and Photographs Division Washington, D.C.