The photo reproduced below is a brilliant depiction of base ball during the early 1930s. This photo was likely taken at Shibe Park in Philadelphia in either 1930 or 1931. It shows Philadelphia A's stars Jimmie Foxx (kneeling on the right), and Al Simmons (kneeling on the left), surrounded by young children seeking autographs on a baseball.
The Philadelphia A's won the American League pennant in 1929, 1930, and again in 1931. Their roster was sprinkled with baseball royalty in those years before the Great Depression. Foxx and Simmons were destined to be elected to the Baseball Hall of Fame, as were teammates Lefty Grove, Mickey Cochrane, and player/coach Eddie Collins, as well as manager Connie Mack.
Mack was doing more than just filling out lineup cards and making pitching changes. The tall, genteel man was also the owner of the franchise. He held controlling interest of the A's for more than 50 years, until 1954, when he was 92 years old.
Simmons was a great left fielder and one of the most productive right-handed batters of the 1920s and 1930s. With his patented batting style, where he lifted his foot in the air and "stepped in the bucket," Simmons banged out more than 2,900 hits in a -year career. He batted .381 in 1930 to win the batting crown. The following season he outdid himself: hitting .390 to take the crown again. In each of his first 11 seasons, "Bucketfoot Al" drove in 100 runs. He was elected to the Hall of Fame in 1953.
Foxx was a tremendous power hitter, and when he eventually retired he held the record for most home runs by a right-handed batter. He was overshadowed by contemporary Lou Gehrig, but still remains one of the five greatest first basemen in history. A strong farm boy from Maryland, Foxx led the league in home runs four times. He averaged 33 homers and 131 RBI in the three A's pennant-winning seasons. In 1932, "The Beast" smacked 58 home runs for Mack's team. He later had a 50-homer, 175-RBI season for the Red Sox, when he also won the batting title at .349, capturing his third MVP Award. Jimmie Foxx was elected to the Baseball Hall of Fame in 1951.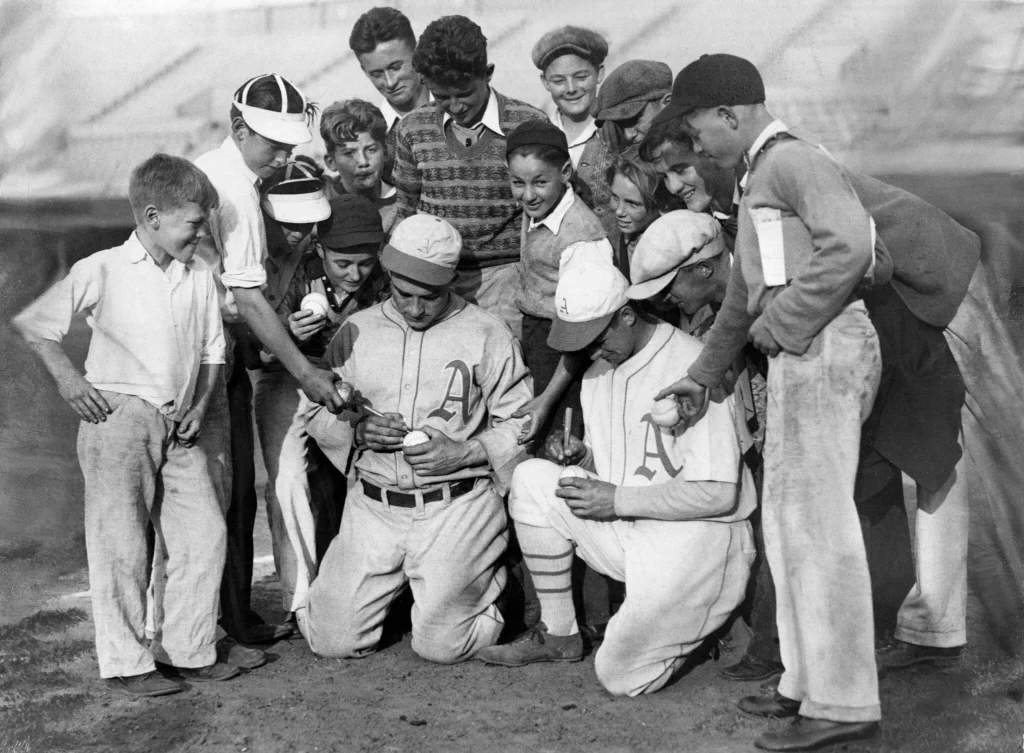 RELATED
Why are they called the A's? >
The 20 Greatest A's of All-Time >