Rest in peace, Tim McCarver, who played his professional baseball game when he was 17, and broadcast his final game when he was 79. He played for 21 years and was a two-time All-Star catcher. In 1967, he was runner-up in National League Most Valuable Player voting.
An Irishman from Memphis, Tim McCarver caught his first big league game at the age of 17, when Dwight Eisenhower was in the White House. He played his final major league game 21 years later when Ronald Reagan was a month away from being elected president. After retiring as a player, McCarver had a successful broadcasting career for more than three decades, calling 24 World Series.
Helped Gibby in St. Louis  
Bob Gibson enjoyed throwing to McCarver, and there's good reason: in their time together in St. Louis, McCarver hit almost half of his home runs (31 of 66) when Gibby was on the mound, and the righty had a 2.44 ERA in games where they worked together. Gibson had a 3.02 ERA with other catchers. McCarver also caught Steve Carlton a lot (236 games). McCarver's arm was nothing special, and after he led the league in passed balls twice early in his career, pitchers started to be careful working with him below the strike zone.
McCarver's tentpole skills were: calling a game, his speed, and durability. He is one of a handful of men to play in four different decades. He appeared in the World Series with the Cardinals in 1964, 1967, and 1968. St. Louis had the best team in baseball in the 1960s, and were the first roster to gel superstars who were white, Latin, and black. The clubhouse was ruthless and packed with intelligent, passionate competitors.
"The Cardinals had more leaders than any five teams that won the World Series a decade earlier," McCarver said.
McCarver was one of those leaders, even as a twenty-something catcher who could irritate his pitchers with his mouth.
Tim liked to tell the story of when he went to talk to Bob Gibson when the bases were loaded in a tight game. "Don't say a fucking word. Just give me the damn ball and stay off my mound," Gibson hollered at his teammate before he could get halfway to the pitcher.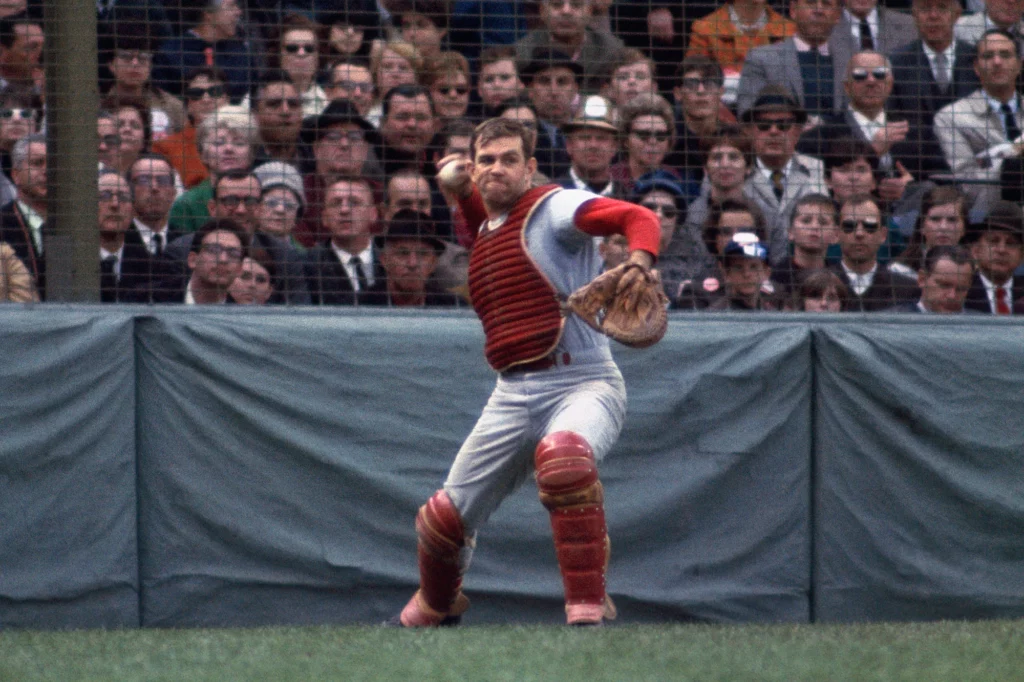 Intelligent Baseball Mind Enhanced TV Broadcasts for Decades
McCarver served as a broadcaster in four decades, beginning on Phillies games in the early 1980s with Richie Ashburn and Harry Kalas. His measured and learned style lent an expert air to broadcasts. While some critics disliked his explanatory manner, McCarver always insisted he wanted to share knowledge that would benefit fans of all levels. He often proved prescient.
In a game at Yankee Stadium in the 1990s, McCarver noted that the pitcher was nodding twice to his catcher while running through the signs. "The only reason to nod twice is to tell the location of a pitch," McCarver said. "And the only pitch you set location for is a fastball." On the next pitch, the batter hit a home run off a fastball.
In Game 7 of the 2001 World Series, McCarver mentioned that Yankees relief ace Mariano Rivera jams batters with his patented cut fastball, which often resulted in bloopers off the handle of the bat. McCarver explained that New York might be making a mistake playing the infield in. On a subsequent pitch, Luis Gonzalez blooped a pitch off the handle for a game-winning, Series-winning hit.
McCarver was awarded the Ford C. Frick Award in 2012, the highest honor bestowed upon a baseball broadcaster. He was inducted into the Sports Broadcasting Hall of Fame in 2016, and the St. Louis Cardinals Hall of Fame in 2017.
He passed away earlier this month at the age of 81.