With the possible exception of boxing, baseball has been the best subject for sports movies. From The Babe Ruth Story to The Winning Team, (starring Ronald Reagan) to the classic "The Bad News Bears" franchise.
And that's not even to mention Field Of Dreams, which for many is the greatest baseball movie ever made, with its magic realism and themes of fathers and sons. Even Major League Baseball is in love with that film after all these years.
Whether a baseball movie is good or not, there have been many wonderful characters over the years in films that deal with the National Pastime. This list is an effort to create a lineup from the best baseball players in movies. In order to do so, we have a few rules:
The players must be fictional
We're choosing the lineup based on playing ability. No bumbling Bad News Bears here, or Smalls (You're Killing Me…)
The characters should be important in the movie. We tried to avoid talented ballplayers who were just minor characters in a film.
No age or gender discrimination: all folks are eligible for this team.
Let's check out the lineup.
Lawrence "Crash" Davis, Catcher
Bull Durham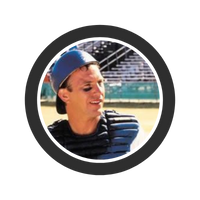 Though he spent only 21 days in the big leagues ("the 21 greatest days of my life," according to Davis, played by baseball movie staple Kevin Costner), Davis was a hard-nosed catcher with right-handed power. In the movie they explain that he's close to breaking the record for minor league home runs. But it's Crash's tongue that makes him "major league" quality:
"Don't hold the ball so hard, OK? It's an egg. Hold it like an egg."
AND
"I was in the show for 21 days once. Twenty-one greatest days of my life. You know you never handle your luggage in the show? Someone else carries your bags. It's great. You hit white balls for batting practice. Ballparks are like cathedrals. The hotels all have room service and the women all have long legs and brains."
AND ALSO
"Hey. Relax. Don't try to strike everybody out. Strikeouts are boring. Besides that, they're fascist. Throw some ground balls. It's more democratic."
Davis would probably be a .230 hitter with a .300 on-base percentage, but still crack 18 homers. With his people skills leading the pitching staff, that's more than enough with the stick for this lineup.
Stan Ross, First Base
Mr. 3000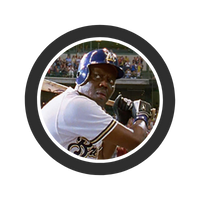 This 2004 movie starring Bernie Mac in the title role is a cute farce. Ross gets his 3,000th hit and retired mid-game, much to the consternation of his teammates. Years later, it's revealed that a statistical error was made—Ross actually made just 2,997 hits.
So, he returns to the Brewers to pursue the three hits he needs to legitimize his "Mr. 3,000" brand name, which he's utilized to enrich himself since his retirement (to the irritation of everyone around him).
The movie is pretty mediocre, but worth watching just to see the many iconic Brewers that make cameos (Robin Yount, B.J. Surhoff, and others)
Ross was probably a .300 hitter with decent power, sort of a poor man's Eddie Murray, which works nicely for our made-up lineup. Call him our #5 hitter.
Marla Hooch, Second Base
A League Of Their Own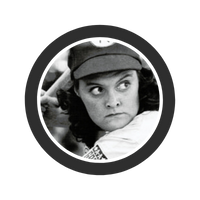 Before she got married and left the game, Marla was the Babe Ruth of the All-American Girls Professional Baseball League. Like Roy Hobbs, Marla was a product of the farm system — the actual farm — going from a midwestern dairy farm where she took care of her dad, to becoming the best hitter in the AAGPBL.
She'd be good for 20 dingers and a .330 average every year, and we'd appreciate her sexy singing skills too.
Benny "The Jet" Rodriguez, Shortstop
The Sandlot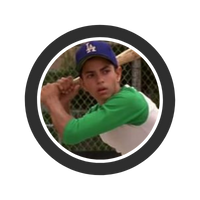 Mature beyond his years, Benny Rodriguez was the coolest kid in the neighborhood in The Sandlot, and the best ballplayer anyone had ever seen. He was the glue that kept all the kids on the sandlot together as a team, and he was the nice kid too: only he saw the value in Scotty Smalls, who annoyed everyone else.
Benny was a five-tool player: power, arm, hit for average, field, and speed. Oh he could run, as evidenced by his ability to escape the defense in pickles. What type of big leaguer was Benny (who was shown as being a member of the Dodgers at the end of the movie?): think Chris Taylor or Davey Lopes, a quick, base stealing threat who could hit the ball out of the park, was versatile, a team-first guy.
Roger Dorn, Third Base
Major League, Major League II, Major League: Return To The Minors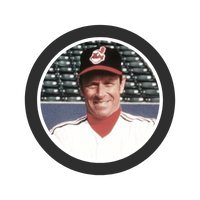 One of the few ballplayers to appear in all three of the Major League movies, Dorn was depicted as being a little long in the tooth, a veteran player more concerned with his paycheck than his runs batted in. He frequently sabotaged his teammates and he was an infamous ass-kisser, played by Corbin Bernsen.
When he was in his prime, Dorn was an All-Star third baseman with a good stick, although he was probably never a big star. He just acted like one.
Think Carney Lansford or Tim Wallach: a very good, but never quite great third sacker. Dorn was probably good for 22 homers and 86 RBI per year when he was at his best.
Walter "The Whammer" Whambold, Left Field
The Natural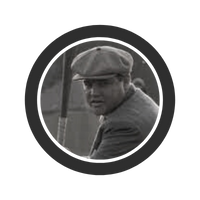 Early in Bernard Malamud's novel The Natural, an unknown young pitcher from the prairie named Roy Hobbs faces and strikes out The Whammer, a slugger based on Babe Ruth. Later, when Hobbs is a veteran home run hitter for the New York Knights, he faces a young phenom and strikes out as well, facing his own mortality as The Whammer had once done.
That's part of the beauty of Malamud's novel: a study of America's obsession with the farmboy-turned hero, with the mythic themes of east vs. west, of old vs. new, of father vs. son, and so on and so on.
The Whammer (played by the formative Joe Don Baker) was a home run champion, a larger-than-life figure who fits nicely as a cleanup hitter on this team.
Willie Mays Hayes, Center Field
Major League, Major League II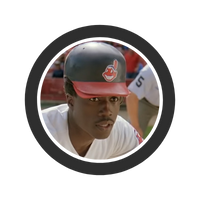 Played by Wesley Snipes in the original and Omar Epps in the sequel, Willie Mays Hayes was a speedster and a hot dog showboat, a perfect leadoff man.
"I play like Mays, and I run like Hayes," Willie said. "Don't you guys go anywhere. I plan to put on a hitting display."
Though he was a mediocre outfielder and at first he had a hard time hitting anything but popups, Hayes developed into a moderatly good hitter and he was always a dangerous threat with his feet (better to run away from the IRS, right Wesley?). Willie is probably a 75-steal guy with a .270 average. A Lonnie Smith type.
Roy Hobbs, Right Field
The Natural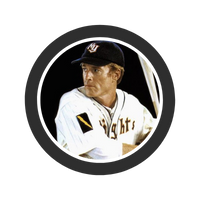 A legend who saw his baseball career derailed when he was shot by a fanatic female admirer. The Natural was partially based on the true-life story of Eddie Waitkus, who was shot by Ruth Ann Steinhagen in a hotel in Chicago in 1949. Earlier, in 1932, Cubs shortstop Billy Jurges had also been shot by a woman, also in Chicago. Both incidents served as inspiration for author Bernard Malamud.
Hobbs the outfielder was old, but he could rake. Some researchers of The Natural have figured that he probably hit .350+ with 35 or more homers in little more than 100 games for the Knights in the season depicted in the film.
With his trusty "Wonder Boy" bat, Hobbs is our #3 hitter.
Jack Elliott, Designated Hitter
Mr. Baseball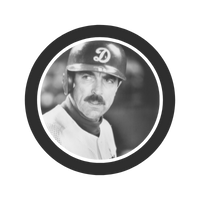 The trailer for Mr. Baseball, starring Tom Selleck in the star role, goes like this:
Veteran New York Yankees first baseman Jack Elliot is traded to the Chunichi Dragons of the Japanese Central League during Spring Training, and forced to contend with overwhelming expectations and cultural differences during the Dragons' run at the pennant.
It's a B-movie at best, but there are some decent scenes that capture the cultural clash between American athletes and Japanese culture.
Selleck was a pretty decent ballplayer, and he even got a chance to bat in a spring training game for the Detroit Tigers. In the movie, his character Jack Elliott is past his prime, but when he was an All-Star he was apparently a batting champion and a power hitter.
Bingo Long, Starting Pitcher
Bing Long's Traveling All-Stars & Motor Kings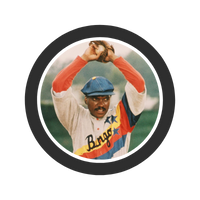 Make sure to see this film if you've never had the chance. The movie stars Billy Dee Williams (as the title character), as well as James Earl Jones, and Richard Pryor. Long is based on negro leagues pitching legend Satchel Paige, who rates as one of the greatest hurlers in baseball history.
Bingo Long's Traveling All-Stars & Motor Kings is a wonderful depiction of the barnstorming days of black baseball in the 1930s, and it shows the challenges that african american athletes were faced with before Jackie Robinson broke the color barrier.
Long was a fastball pitcher who also featured a wicked changeup and curveball. In the movie he shows off his numerous pitching deliveries, a hesitation pitch (which Paige also used from time to time). He's the unquestioned ace of our staff.
"Nuke" Laloosh, Starting Pitcher
Bull Durham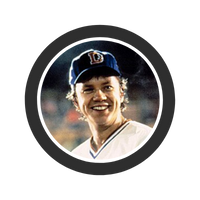 Played brilliantly by Tim Robbins, Laloosh is a prototypical "meathead" athlete. Think Roger Clemens, but without the steroids. Think Nolan Ryan minus 100 IQ points. A right-handed flamethrower with a wild streak, Laloosh is finally able to harness his heater and gets the call to The Show in Bull Durham, which may be the most entertaining baseball movie ever, though not the most cerebral.
I'd imagine Laloosh as having a career a bit like Frank Tanana (before his arm troubles): 250+ K's, still struggling with control, but a tough matchup for hitters with his 98-101 MPH fastball. And he'd do it all while wearing Annie's garter.
Ricky "Wild Thing" Vaughn, Relief Pitcher
Major League, Major League II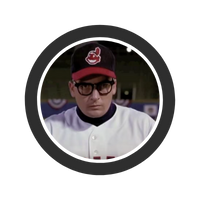 Played masterfully by Charlie Sheen, Ricky Vaughn is a fastball-only closer with a Dennis Rodman attitude in tight polyester uniform pants. This was a guy you didn't want to get pissed off:
"I got news for you, Mr. Brown—you haven't heard the last of me. You may think I'm shit now, but someday you're gonna be sorry you cut me. I'm gonna catch on somewhere else and every time that I pitch against you I'm gonna stick it up your fuckin' ass!"
Vaughn would be sort of a cross between Rob Dibble and Mitch Williams, in fact Williams adopted Vaughn's nickname in his controversial career as a reliever in MLB.
Henry Rowengartner, Relief Pitcher
Rookie Of The Year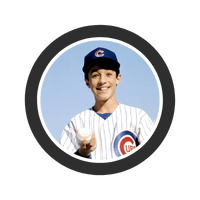 Every team needs magic, and Little Henry had it in his pre-teen shoulder.
In Rookie Of The Year, Henry Rowengartner is an untalented Little Leaguer who dreams of playing in the major leagues. After he breaks his arm catching a fly ball, the doctor removes the cast, and 12-year old Henry learns that he can throw a baseball nearly 100 miles an hour (with movement). He goes on to help the Cubs (of course) win the World Series.
How long before Ricky Vaughn would have Henry shaving his head? Well, it doesn't matter: Rowengarten would be good for tight spots out of the pen.
Tell us what you think of these baseball characters, this team, and your favorite baseball movies in the comments below.