In this photo, Philadelphia A's owner Connie Mack poses with several of his former players at West Palm Beach in Florida during spring training in 1951.
The players to the left of Mack are Charles Bender, Jimmie Dykes, Wally Moses, Sam Chapman, and Arnie Portocarrero.
At the time of this photo taken in sunny West Palm Beach at the Athletics spring training facility, Mack was 89 years old and entering his first season not managing the team he owned since 1901. Mack announced his retirement in 1950, when he appointed Dykes to be his "co-manager" for that season. Dykes assumed the managerial slot for the 1951 campaign, with Mack as team president.
Chapman, Moses, and Portocarrero were on the active roster as players in 1951. It would prove to be the final season for outfielders Chapman and Moses, who were teammates for parts of eight seasons playing under Mr. Mack.
Bender was one of Mack's personal favorites and a star pitcher in the deadball era. He won more than 200 games for the A's and more than 300 in his professional career.
Dykes was a member of Mack's coaching staff in 1949 and 1950, after having spent 15 seasons playing for the Philadelphia A's as a star third baseman. Dykes would skipper the team to a 79–75 record in 1952, the last winning season the franchise had in Philadelphia.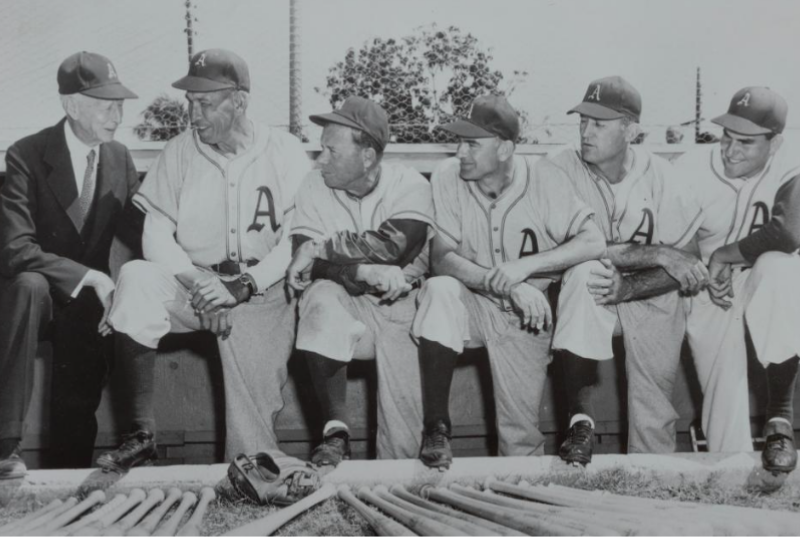 RELATED
A's All-Time Team >
Why Are They Called the A's?